Christmas Trip to Chimelong Paradise
Jan,10,2012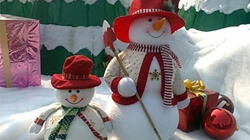 During the Christmas holiday. Our team had a happy travel together in Chimelong Paradise, which located in Guangzhou city of China.
It was a nice day, happiness appeared on every faces. We singed one by one or together, played tongue twister in different dialect, talked jokes on the coach. It seemed a small party with happy atmosphere, which led an idea on our boss Jason' mind: it's a appreciate to have party show in our department when we came back.
Excited time always passes fast. We had been arrived Chimelong Paradise. It's full filled atmosphere of Christmas especially the now man were so cute!
So we took pictures at once. Ladies were pretty, and men were cool.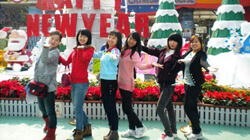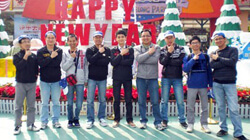 The first game was Ten Inversion Roller Coaster Thrill Rating which is the most inversion coaster in the world. I never had played Coaster before as it was hardest challenge for me as the weightlessness feeling made me scare. Jason always encourage us: it's easy, be relax!
I was still nervous, it's ten inversion rollers! Oh, god! I still want to run away after wearing a seat belt.
The coaster move smoothly up to a slope and then down quickly, up to a roller. I closed my easy and screams vent fears as well as almost people. The rollers are closely one by one and so did screams.
Actually, it was not so easy but also not so hard to do it. Once I had done that, it was a piece of cake.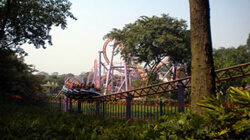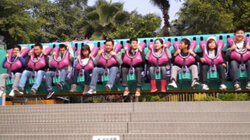 The first day was full filled of excite and challenge and the second day was more peaceful but also funny. We visited the Millions of Sunflower Garden. It is said that, Millions of Sunflower Garden attracted a total of 18 Europe, Japan and other ornamental sunflower varieties, and created a number of optimization for the growth of subtropical plant varieties. So great! We ran to the flower and took pictures.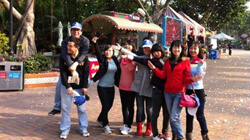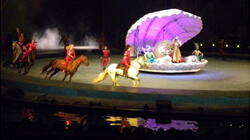 It was very comfortable to walk on the flower field.
In addition, cute little pig, dogs and squirrel were also scene in the Garden. These adorable animals can bring to children living in urban endless joy.
Time fly fast. We came back to Shenzhen in the afternoon of Christmas Eve. Looking forward to next trip in 2012.