East and west, Guilin scenery is best!
Oct,08,2010
East and west, Guilin scenery is best!
BBE international market team has a chance to visit a wonderful place---Guilin last weekend. There is an old saying in China "Gui lin Shan Shui Jia Tian Xia" while In English it Means Guilin Scenery of mountains and water is peerless in the world. I think this one is the best translation "East or west, Guilin scenery is best!"
The best place to visit Guilin landscape is YangShuo town, a small town but renowned to the world because of its beauty. Our tour guide David Lee has been in the town for nearly one year. Thus he is very familiar with this place.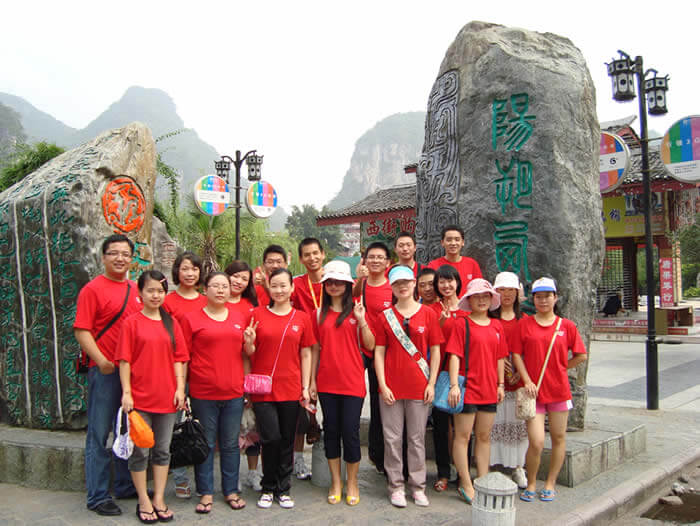 Because this is a green town, you can see lots of bicycles there. Many people choose to tour around by bikes. The first reason is that you cannot enjoy the beautiful scenery thoroughly by car. And most of tourists from city maybe have slim chance to enjoy this scenery, thus the best way for them is biking to tour.
We choose this green way in the first day, which excites us greatly and the only thing catch your eyes is the beautiful scenery such as fresh air, green trees and clear water.
The first thing impressed us is the clean and clear water and you can see the water grass so clearly. It is a small, narrow but deep river and you can see the bottom of the river.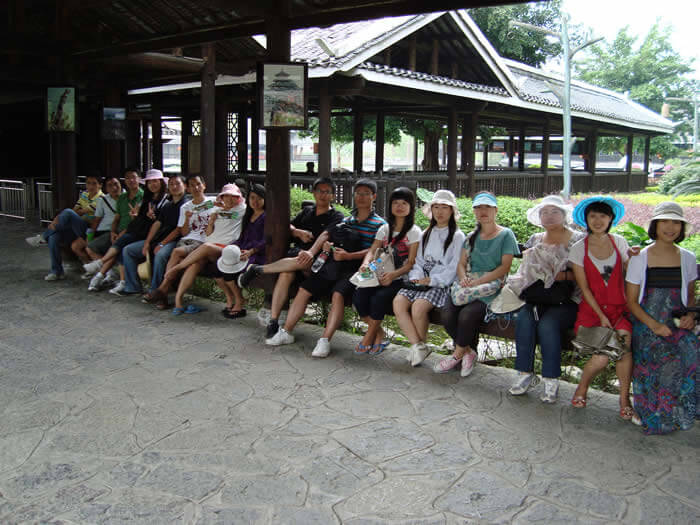 We took a bamboo raft in the river, which lasted around 40 minutes, totally 8 km. when moving with the water, you felt you are walking in a beautiful corridor.
Mountains are different from other places, where features karst landform. Rising sharply at odd angles, limestone peaks look like giant teeth growing out of the green plain. Karst topography is characterized by many caverns and sinkholes that form by the dissolution of limestone or other carbonate rocks
We also visited some other places that afternoon including some theme parks. The next day we went to another river--the most famous Guilin river "Li River".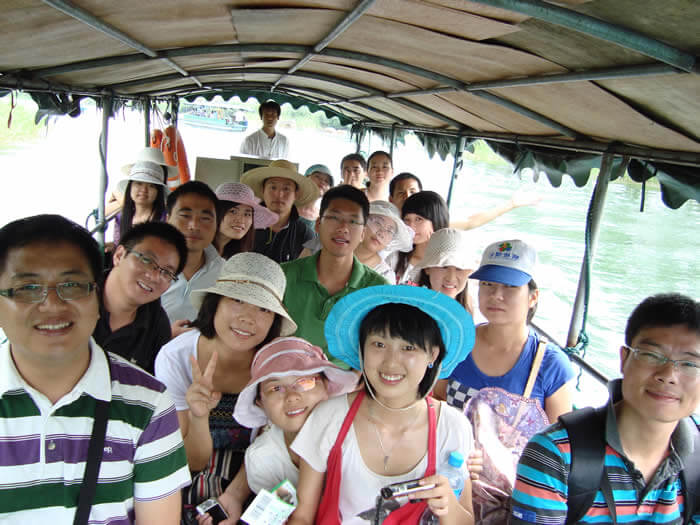 The Li River originates in the Mao'er Mountains in Xing'an Сounty and flows in the general southern direction through Guilin, Yangshuo and Pingle. In Pingle the Li River merges with two other streams, and continues south as the Gui River, which falls into the Xi Jiang, the western tributary of the Pearl River, in Wuzhou. That is very beautiful.
It is classic scenery of" Li River "of mountains linking one by one. They are not very steep but very green with plants. We took along the river for one hour by motor boats.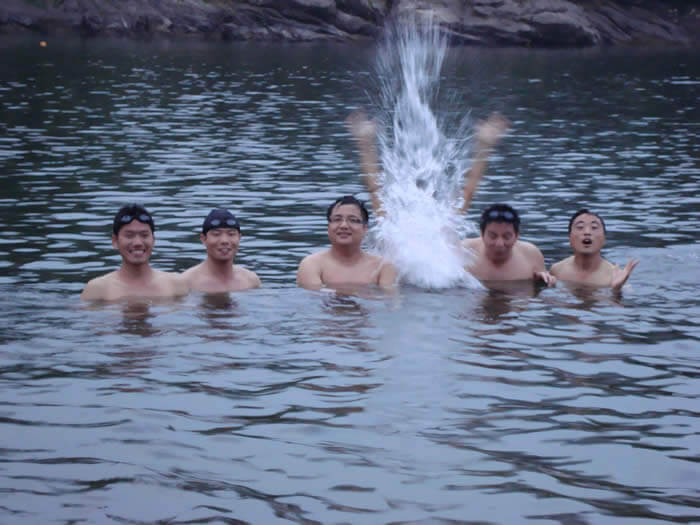 Many foreigners are also attracted by these beautiful scenic, and it is said that these foreign visitors account for 40% of total visitors.
Over these days tour, the local people hospitality deeply impresses us. We are also looking forward to visiting more beautiful scenic in our country.
Any question, please feel free to contact:
Tel.: +86 755 2958 8988 Ext. 837 Fax: +86 755 2958 8616
Mobile: +86 185 7520 6951
E-mail: bbe@bbeled.com
Any question, please feel free to contact:
BBE TEAM
Tel.: +86 755 2958 8988 Ext. 837
Fax: +86 755 2958 8616
Mobile: +86 185 7520 6951
E-mail: bbe@bbeled.com