BBE's Mid-Autumn Festival Evening Party
Chinese traditional Mid-Autumn Festival , which symbolizes achievement, abundance, harmony, and peace, which signifies fullfilment, gains, love and unions, was fabulously celebrated on lunar 14th, August by BBE, showing the well-increasing development of the middle-sized corporation, stating the consolidated will, indefinite passion, united mind and friendship of motivated staffs. It was quite not only an enjoyable gatherings but also a pleasing feast to sight and ears.
The whole party was well prepared by each department, much sponsored by the board of directors, and greatly supported by each members, which was held in the canteen of the industrial park, due to the continuingly rainy days. While the bad weather failed to stop the ethusiasm and passion of us. The stage was delicately designed with the scene that "Beauty Chang'E flying toward to the moon", using the classic colour "Red" as the main background, which undoubtedly brought the sense of happiness, peace, warmth, harmony, and ethusiasm to the party and to the night.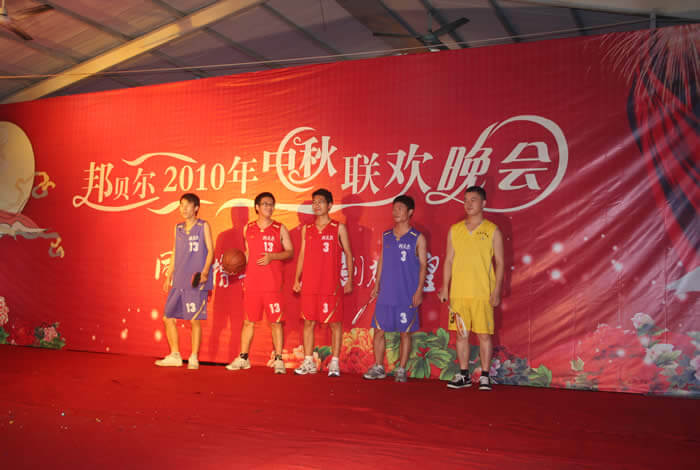 There were various programmes on the show list, diversified by these creative, horizoned, activated groups of youth, fresh, and vigor, such as big chorus, amazing dances, unpredicable and unprecedent which made us audience burst into laughing. All kinds of performances demostrated well-training, power, surprise and unity; every smile convinced you of warmth, kindness, and confidence.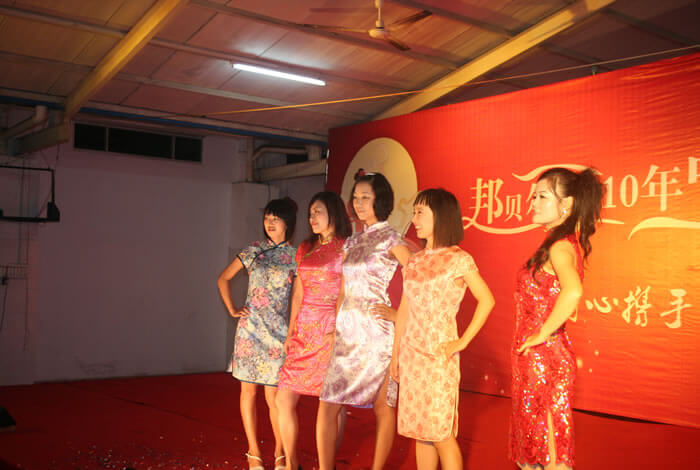 As the biggest department in BBE, we, International Trade, drew much attention and great support to this party, privileged to take this chance to display our sincerity, loyalty, unity, creativity and activity with intelligence and excellence. Following the first opening chorus " Unity is Power", we, international salesgirls, wholly wearing sports sets, danced under the music "I want to be happy", attracted the audience extremely for their buoyancy, youth, vigor and sweetness. They won big smiles and big applauses.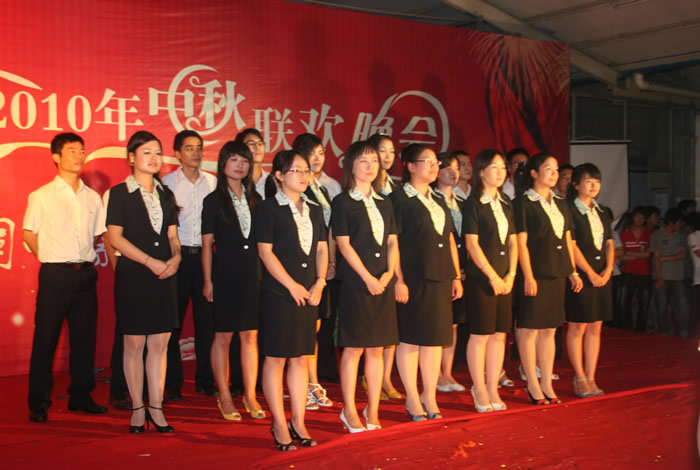 The fashion show we gave created a climax, a great attack to our eyeballs. In sets of different style of different series, performers( our non-professional models), turn by turn walked into the stage from back to front, left to right. First came sports series. We, boys in sports uniform, came! Each carrying a basketball or football or badmitton or ping-pang respectively, skillfully played with high sports genius and wonderful skills. Second, Qipao series. Our beautiful girls in so good-looking Qipao, stepped elegantly, luxury, and traditionally. Their grace, docile and inner were so beloved by our cultivated on-lookers. Third went on the summer cool days series. All boys girls in summer cool cloth, dress or T-shirt, footed leisurely and lively. It is not hard to see we love life and enjoy life so much. Fourth, evening part dress. Boys-girls two in pair, hand in hand, walked together gently or gracefully. The sight was quite full of harmony and aesthetic.
The party went on smoothly and successfully, ended up by our chorus "Entering into the New Century", which was in conformity with the opening show, magnificently, powerfully, and splendidly.
No moon in the sky on this night, we were not able to watch the bright, clean, and full moon, not able to see the beautiful color of the moon night. What a pity to all of us. However, we still enjoyed the beautiful night, as our joy, our gatherings, our passions, our unity, our talent, our happiness gained have lighted up the moon on the bottom of our heart and soul.
Wasn't it? We deserved to it.
Any question, pls feel free to contact us. Thanks.
BBE TEAM
Tel.: +86 755 2958 8988 Ext. 837 Fax: +86 755 2958 8616
Mobile: +86 185 7520 6951
E-mail: bbe@bbeled.com