LED Lighting Trail of BBE LED, GE, Osram and RUUD in City of Sydney, Australia
In an Australian first, City of Sydney is installing 250 sustainable street lights across the Sydney CBD and city villages as part of an LED street lighting trial. The City of Sydney could potentially reduce energy consumption by 50 per cent – saving millions of dollars in electricity and dramatically reducing greenhouse gas emissions.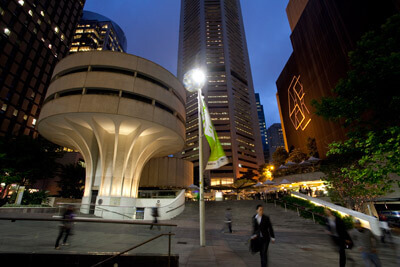 Lighting the City of Sydney
One third of the City's annual electricity use, and a large part of its greenhouse gas emissions, result from public lighting. The City of Sydney is one of the largest street lighting utilities in NSW. There are approximately 20,000 street and park lights across the City of Sydney – 12,000 are maintained by Energy Australia and 8,000 by City of Sydney. In 2008/09 the City spent $3.5M on electricity for the 20,000 lights and $2M on maintenance and upgrades of the 8,000 it maintains.
Currently, all City street lighting and electricity use is powered by 100% GreenPower, government-accredited renewable energy. However, as part of its Sustainable Sydney 2030 implementation program, the City of Sydney is investigating LED street lighting that has the potential to cut the cost, energy use, and greenhouse gas emissions of street lighting. The six-month Sustainable Lighting Trial, an Australian first, will help determine community acceptance of the lighting and investigate aesthetics, operational issues, energy use, and capacity to meet the relevant lighting standards. The City is also conscious of the impact of excessive energy use, light pollution (both into the night sky and resident's properties), and glare.
Types of lighting
The City's existing street light lamp sources include Incandescent, Fluorescent, High Pressure Mercury, High Pressure Sodium, Metal Halide, and Compact Fluorescent.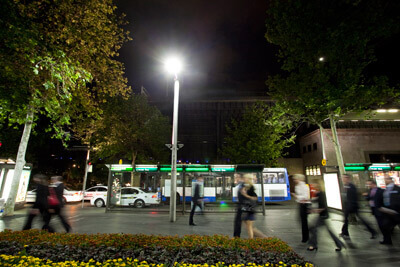 City of Sydney has engaged four companies to conduct the Sustainable Street Lighting trial:
Switched On Innovations, installing GE Lanterns.
Osram, installing Osram Lanterns.
Advanced Lighting Technologies, installing RUUD Lanterns.
Poles and Underground, installing Lightsense Lanterns.
The City is also working with Energy Australia to trial 50 Cosmopolis lights on Bourke Street, Surry Hills.
Did you know?
Australia has approximately 2 million streetlights. Annually, public lighting costs $210 million, uses 1035 Gigawatt hours (GWh) of electricity, and is responsible for 1.15 million tonnes of carbon dioxide emissions (0.2 per cent of Australia's total greenhouse gas emissions).
Sydney's public lighting consumes a total of 13,100 megawatt hours a year and produces 13,100 tonnes of greenhouse gas emissions.
Sustainable Sydney 2030 states the City will reduce greenhouse gas emissions by 70 per cent by 2050 (compared to 1990 levels).
With a longer life span than conventional bulbs, it possible LED street lighting will provide significant energy and maintenance savings for the City. Sustainable street lighting could potentially reduce energy consumption by 50 per cent – saving millions of dollars in electricity and dramatically reducing greenhouse gas emissions.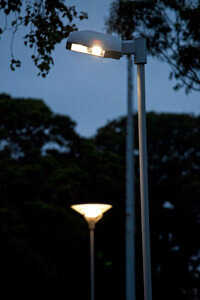 LED Street Lighting Trial
Following request for tender, four companies have been invited to work with City of Sydney to trial sustainable LED lighting in the CBD and City villages. Much of the technology is so new it has yet to be trialled and tested on mass in an urban environment. The City of Sydney will be trialling multiple technologies in four separate locations to measure effectiveness and energy savings.
The various types of street light technologies will be clustered in groups. Installation sites with different environmental conditions around the distribution network have been selected e.g. residential, commercial and locations with high lightning activity. The trial will monitor the quality and type of lighting, compliance with Australian Standards for public lighting, as well as ongoing operating costs, energy efficiency and durability.
The trial will not look at the design or aesthetics of the street lights – these matters will be considered at a later date if the trial is successful.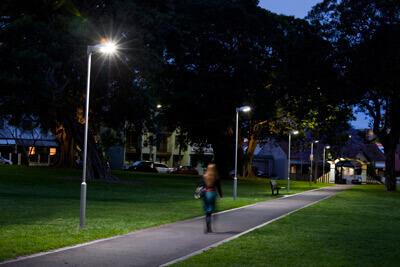 Data Collection
Data from the trial will be collected, with information on the performance of various lighting technologies, under a range of environmental and network conditions, captured.
Lamp failures, potential causes of lamp failure, as well as the light output performance of the lamps throughout their life willbe monitored. The trial will measure, log and deliver information including:
Illuminance from luminaire at ground level
Mains voltage supply
Current supply to luminaire.
At the conclusion of the trial, data will be analysed and a final report examining operating costs, lamp life, energy efficiency and greenhouse gas emissions will be produced.
About the Tender
Managing the selection process.
In late 2008, City of Sydney undertook a major advertising campaign seeking Expressions of Interest for the Supply and Installation of Light Emitting Diode (LED) Technology for Lighting Public Domain Areas of the City of Sydney.
26 Responses were received.
Responses were evaluated by a panel of seven members, made up of staff from City Infrastructure Procurement, Finance and the Clinton Climate Initiative.
Of the original 26 EOI respondents, nine were selected to provide further information or to attend individual interview to further assess their capacity for this project.
The nine organizations were chosen based on their EOI submission and briefing session responses.
Following completion of the interviews and another evaluation process carried out by the same panel, letters were issued to six of the organizations inviting each to install LED lighting in up to four separate trial areas within the City.
Currently four organizations are participating in the Sustainable Street Lighting trial.
For more info. about this LED Lighting Trail project, pls feel free contact us.